AUSTRALIAN AND AMERICAN MUSCLE CAR ADVERTS
ADVERTS OF YEARS GONE BYE.
HI WE HERE AT WWW.MUSCLECARADVERTS.COM REPRODUCE THESE OLD ADVERTS FROM
THE 1930'S TO 1990's AND MORE. THEY LOOK GREAT FRAMED IN BARS, STUDY'S, POOL ROOM, GARAGE'S, MAN CAVE'S AND CAR CLUB ROOMS. THEY ARE NICE GIFT FOR CHRISTMAS, FATHER'S DAD, BIRTHDAY'S ECT . THESE ADS ARE ALL DONE ON GLOSS PAPER A3 POSTER SIZE AND A4 SIZE AND LOOK NICE ONCE FRAMED. IF YOU DON'T FIND A ADVERT ON HERE THAT YOU WANT JUST EMAIL ME AT PACEY1977@OPTUSNET.COM.AU AND WE MAY HAVE IT ON OUR DATABASE. WE HAVE MORE THEN A 1000 ADVERTS IN STOCK FOR MORE INFO AND PRICING CALL MARK ON 0418529735.
WE HAVE JUST PUT UP A NEW MISCELLANEOUS PAGE WITH SOME COKE COLA, PEPSI , HARLEY DAVIDSON, INDIAN MOTORCYCLES, BSA, DATSUN, MINI, MAZDA, OIL, TYRE AND PETROL ADS AND MANY MANY MORE.
WE NOW ALSO ARE DOING CONCERT/MOVIE A3 POSTERS
FROM THE 50'S 60'S 70'S AND 80'S
ARTISTS AND BAND SUCH AS ELVIS, THE BEATLES, THE BEACH BOYS, JOHNNY CASH, AD/DC, GUNS N ROSES, BON JOVI
THE ROLLING STONES, AND MANY MORE PLEASE VISIT OUR FACEBOOK PAGE AND PM US.
WE CAN SEND EMAIL SAMPLE OF ALL OUR ADVERTS AND POSTER.
WE WILL BE UPDATING ALL THE OTHER PAGES IN THE COMING MONTHS.
ENJOY.
19-07-2020






CHEVROLET/GM CARS HOLDEN FORD CHRYSLER/DODGE/VALIANT/MOPAR MISCELLANEOUS
CONCERT/MOVIE POSTER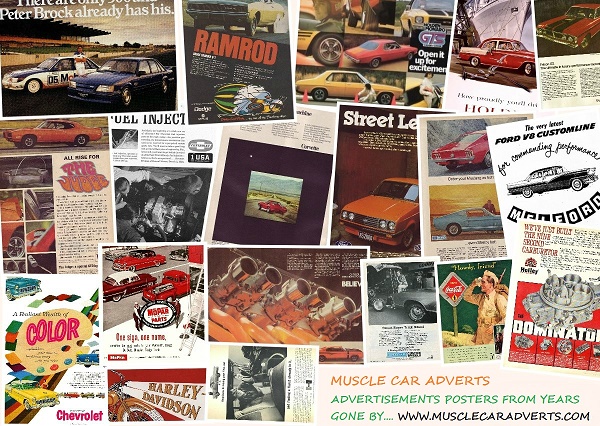 HOME